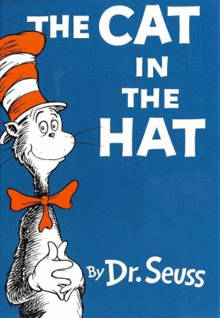 March's Author of the Month
Author of the Month: Dr. Seuss
For the month of March we will highlight the works of Dr.Seuss.
​
All About Dr. Seuss
"OH, THE PLACES YOU'LL GO!
THERE IS FUN TO BE DONE! THERE ARE
POINTS TO BE SCORED. THERE ARE GAMES TO BE WON."
From: Oh, The Places You'll Go!

Theodor Seuss Geisel, better known to the world as the beloved Dr. Seuss, was born in 1904 on Howard Street in Springfield, Massachusetts. His mother, Henrietta Seuss Geisel, often soothed her children to sleep by "chanting" rhymes remembered from her youth. Ted credited his mother with both his ability and desire to create the rhymes for which he became so well known.

Although the Geisels enjoyed great financial success for many years, the onset of World War I presented both financial and social challenges for the German immigrants. Nonetheless, the family persevered and again prospered, providing Ted and his sister, Marnie, with happy childhoods.The influence of Ted's memories of Springfield can be seen throughout his work. Drawings of Horton the Elephant meandering along streams in the Jungle of Nool, for example, mirror the watercourses in Springfield's Forest Park from the period. The fanciful truck driven by Sylvester McMonkey McBean in The Sneetches could well be the Knox tractor that young Ted saw on the streets of Springfield. In addition to its name, Ted's first children's book, And To Think That I Saw It On Mulberry Street, is filled with Springfield imagery, including a look-alike of Mayor Fordis Parker on the reviewing stand, and police officers riding red motorcycles, the traditional color of Springfield's famed Indian Motorcycles.

Ted left Springfield as a teenager to attend Dartmouth College, where he became editor-in-chief of the Jack-O-Lantern, Dartmouth's humor magazine. Although his tenure as editor ended due to a violation of school policy, he continued to contribute to the magazine, signing his work "Seuss." This is the first record of the "Seuss" pseudonym, which was both Ted's middle name and his mother's maiden name.

Ted went on to Oxford University in England after graduation. However, his academic studies bored him, and he decided to tour Europe instead. After returning to the United States, Ted began to pursue a career as a cartoonist. As World War II approached, Ted's focus shifted, and he began contributing weekly political cartoons to PM magazine, a liberal publication. Too old for the draft, but wanting to contribute to the war effort, Ted served with Frank Capra's Signal Corps (U.S. Army) making training movies. It was here that he was introduced to the art of animation and developed a series of animated training films featuring a trainee called Private Snafu.

While Ted was continuing to contribute to Life, Vanity Fair, Judge and other magazines, getting the first book that he both wrote and illustrated, And to Think That I Saw It on Mulberry Street, published, however, required a great degree of persistence - it was rejected 27 times before being published by Vanguard Press.

With the release of The Cat in the Hat,Ted became a definitive children's book author and illustrator. At the time of his death on September 24, 1991, Ted had written and illustrated 44 children's books, including such all-time favorites as Green Eggs and Ham, Oh, the Places You'll Go, Fox in Socks, and How the Grinch Stole Christmas. His books had been translated into more than 15 languages. Over 200 million copies had found their way into homes and hearts around the world. Besides the books, his works have provided the source for eleven children's television specials, a Broadway musical and a feature-length motion picture.

His honors included two Academy awards, two Emmy awards, a Peabody award and the Pulitzer Prize.
TM & © 2002-2004 Dr. Seuss Enterprises, L.P. All Rights Reserved.
Our Reading List
The Cat in the Hat is a children's book written and illustrated by Theodor Geisel under the pen name Dr. Seuss and first published in 1957. The story centers on a tall anthropomorphic cat, who wears a red and white-striped hat and a red bow tie. The Cat shows up at the house of Sally and her unnamed brother one rainy day when their mother is away. Ignoring repeated objections from the children's fish, the Cat shows the children a few of his tricks in an attempt to entertain them. In the process he and his companions, Thing One and Thing Two, wreck the house. The children and the fish become more and more alarmed until the Cat produces a machine that he uses to clean everything up. He then says his goodbyes and disappears just before the children's mother walks in.
Green Eggs and Ham was first published on August 12, 1960. According to Publishers Weekly, it is the fourth best-selling English-language children's book of all time. A character known as "Sam-I-Am" pesters another man who also serves as the story's narrator, to try a dish of green eggs and ham. He refuses, responding, " I do not like them, Sam-I-Am. I do not like green eggs and ham." He continues to repeat this as Sam follows him, encouraging him to eat them in eight locations (House, box, car, tree, train, dark, rain, boat), with three animals (Mouse, fox, goat) all to which he still refuses, responding, "I do not like them here (Current location) or there (Previous location). I do not like them anywhere." Finally, he gives in to Sam's pestering and samples the green eggs and ham, which he does like after all and happily responds, "I do so like green eggs and ham. Thank you. Thank you, Sam-I-Am."
​
One Fish Two Fish Red Fish Blue Fish is a 1960 children's book by Dr. Seuss. It is a simple rhyming book for beginning readers, with a freewheeling plot about a boy and a girl named Jay and Kay and the many amazing creatures they have for friends and pets. Interspersed are some rather surreal and unrelated skits, such as a man named Ned whose feet stick out from his bed, and a creature who has a bird in his ear.
​
​
Fox in Socks was first published in 1965. It features two main characters, Fox and Knox, who speak almost entirely in densely rhyming tongue- twisters.
March's Artistic Corner
Fruit Loop Rainbows
Materials:
Rainbow template

Fruit Loops cereal

Glue

Cotton balls
​
Print rainbow template. Children will sort the Fruit Loops into the colors of the rainbow using ROYGBIV schema and glue them onto the template adding cotton for clouds.
Rainbow Color Sorting Sensory Bin
This rainbow color sorting sensory bin is a great indoor
activity for toddlers and preschoolers. They work on colors,
sorting, and fine motor skills.

​
​
​
Shape-a-saur Dinosaur
​
Materials :
• Construction paper
• Scissors
• Glue
• Pencils
​
Instructions :
Cut out various geometric shapes (circles, triangles, rectangles, etc.) to design your own dinosaur.
​
March's Inspired Snack
Dr. Seuss-Inspired Snacks and St. Patrick's Rainbow Fruit Skewers
​
​
​
​
March's Science Lab
All About Dinosaurs! Students will learn about the various species of dinosaurs and their names, the Triassic period and extinction.
Sand & Archaeology Sensory Dinosaur Bin
Dig up dinosaurs and read The Bernstein Bears' Dinosaur Dig.
​
​
​
​
Play Dough Fun
Using Play Dough students will create dinosaur shapes as we learn about the various species of dinosaurs and extinction.